The Te Whakaru graveyard is considered one of the oldest European cemeteries
in New Zealand with its first burial dating to 1802. 
Amongst those buried are many who lost their lives in shipwrecks in the area.
Little is left of the first German missionary settlement built in 1943 from which Mission Bay was named.
After unsuccessfully opening a school in a bid to convert the children of their Maori neighbours they resorted to farming, ship building and trading.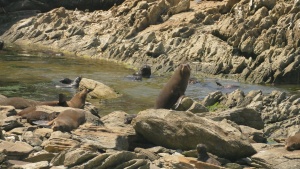 Point Munning is part of a 47 hectare conservation covenant owned by Jim and Sally Muirson where fur seals are abundant on the schist rock formations.
This area is also excellent for bird watching.
Pitt Island shags breed at Point Munning and the summer migrant turnstones and banded dotterels can be seen here, along with other seabirds.