Tourism Chatham Islands E-Newsletter
October 2020
Kia ora Welcome
What an interesting few months it has been. Firstly, the closure of tourism on the Island through Covid-19 and now the complete reverse with some accommodation operators indicating they have very few gaps through till the end of June 2021. Everyone is still very mindful of the future and the uncertain times ahead.
Tourism New Zealand Chief Executive Visit
Last month we welcomed Tourism New Zealand Chief Executive Stephen England-Hall and Industry Relations Manager Paul Yeo.
This provided an ideal opportunity to show them some of the attractions, meet people involved in the industry, Council, Enterprise Trust, Iwi and Imi and get an understanding of tourism on the Island.
We are now beginning work with the team at TNZ on a number of projects to help local businesses, careers in tourism and the tourism offering. A big thank you to everyone who helped out and was involved.
---
Air Chathams Update
We are still pushing through our slow recovery from Covid-19 travel restrictions, including the second lockdown in Auckland which suspended 70 weekly flights.
Fortunately, the Chathams has been the silver lining in our recovery with increased demand due to international travel restrictions. And as part of our business right-sizing we are well through the process of deploying our ATR-72 aircraft onto the Chathams.
This will be the future for the islands for at least the next few years as we continue to work with island partners to facilitate the growth of fisheries, agriculture, and tourism which will all be needed to support a larger jet aircraft. Our Summer schedule also starts in November with 6 weekly flights to our three mainland destinations. Flights are filling up fast so be sure to book early.
---
Tourism Update – There's been a lot happening
Tourism Chatham Islands played a role setting up the meeting with Minister Jones that saw the $36 million airport project funded along with other projects. Well done to the Chatham Islands Enterprise Trust and Chatham Islands Council for all their work in developing the businesses cases for these.
We are also thrilled to receive $90,000 per year for the next three years from the Provincial Growth Fund to support the tourism manager role and the work of Tourism Chatham Islands.
---
New Website
Check this out. We've added lots of new content on all the attractions and how to plan a visit. There's an image library for people wanting photos. You can even book your flights on the new Air Chathams widget.
---
New Brochure
The new brochure is out. If you'd like paper or digital copies please email manager@chathamislands.co.nz
New Logo
We've developed a new logo for Tourism Chatham Islands coupled with a generic one for others to use on other products or for general Island branding. Please email manager@chathamislands.co.nz if you are considering this.

---
TIF Funded Toilet Project
We are working with the Council on the installation of at least five toilets.
Funding through the government's TIF (Tourism Infrastructure Fund) these are planned to go at the Awatotara, Waitangi West, Wharekauri, Kaingaroa and Owenga.
---
Ponga Whare Restoration
The funding application was lodged to help restore this Category 1 historic building that is located on Wharekauri Station.
Heritage New Zealand has been out and viewed the project.
The whare is significant for both is formation linking back to 1860s to Te Kooti's time on the Island and was one of the buildings constructed by the Hauhau prisoners in 1867 for station owner Edward Chudleigh.
The nature of its ponga construction is also a special feature with very few other examples in New Zealand.
---
Stone Cottage Restoration
The work on the first stage of this project has been held up due to the weather prohibiting access across the paddock for vehicles.
This is likely to go ahead shortly when things are drier.
---
Financial Assistance and Social Licence
Voluntary Visitor Levy – A voluntary contribution of $25 per person is now being paid by several tour companies bringing visitors to the Islands. If you are a new operator and would like to contribute please email manager@chathamislands.co.nz This funding will go towards managing tourism on the Island. Contributions from independent visitors are also welcomed and can be made to:
ANZ Account: 06 0845 00796434002
Particulars: Your name
Reference: Donation
---
– $100 per visitor to the Swimming Pool –
A big shout-out also to Driftwood Eco Tours owners Will and Rose Parsons. They support many projects in the places they take visitors to. They're contributing $100 per visitor to the Swimming Pool project – that's $2000 for just two trips this season (pending no Covid-19 closures).
---
Donations:
As part of social licence and giving back to community project, TCI has established three projects visitors can support. These are:

Tourism Chatham Islands to help fund management and infrastructure for visitors,
The Taiko Trust saving the taiko and other rare and endangered seabirds.
The new Chatham Islands Museum displays and fit-out. The project is very close to construction.
---
Tourism Chatham Island AGM
What a large attendance at the AGM, especially considering there were also a number of apologies. This demonstrates how much tourism has grown and the overall interest in its management on the Island. Duane Emeny was re-elected to the role of Chair. The other committee members are:
Designated Members:
CIET – Toni Gregory-Hunt CIC- Greg Horler DOC – Tryphena Cracknell
Hokotehi Moriori Trust – Susan Thorpe and Heather Beaton (shared)
Ngati Mutunga o Wharekauri Iwi Trust – Gail Amaru
Elected Industry/Community Representatives:
Toni Croon Marcel Tuuta Celestine Lanauze Brent Mallinson
Kerry Fleming stepped down. We thank Kerry for all her support and input over the past year.
Tourism Chatham Islands AGM – Kopinga Marae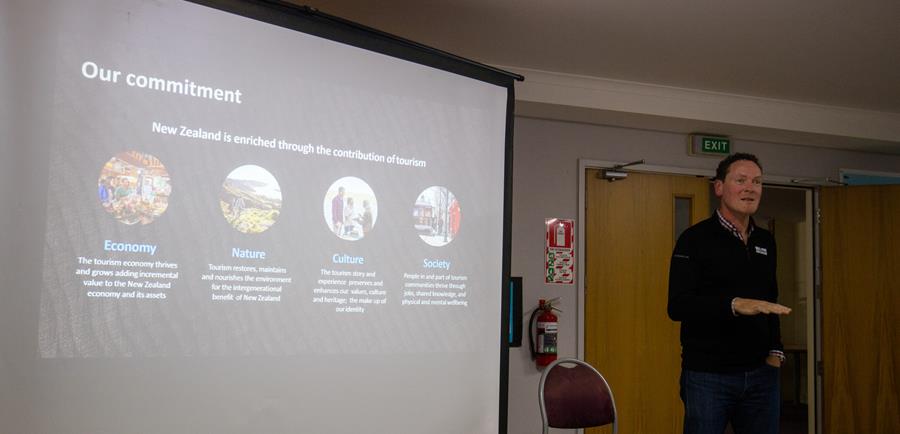 ---
Featured Business




– Awarakau Lodge –
After their early years together in the Stone Cottage, then Waitangi where Greg was fishing
and Rosemarie cooking at her mother's motels, the couple went on to purchase Awarakau farm in 1991.
Originally planned as two guest bedrooms as part of their new house in 2005, the development became a stunning, coastal lodge complete with en suite rooms with guest lounges and large conservatory and dining area able to cater for groups of up to 12 people.
"Tourism was growing and we needed to look at something to sustain our income once I decided to give up diving and fishing" Greg reflects. "I'm a great talker and love to share the islands history, culture and conservation efforts and Rosemarie, a 6th generation Chatham Island, is a great cook so we were made for it."

Greg enjoys showing off the island and sharing its history in through the guided tours to the Island's attractions. "The biggest kick I get is when visitors say things like "we didn't know there was so much history on the Chathams".
"Showing visitors around also grounds you when they talk about all the beautiful and stunning scenery and landscapes and how lucky you are to live here. We tend to take it for granted because we see it every day."
As the former chair of the original visitor industry group, current deputy Mayor, member of Tourism Chatham Islands and busy tourism operator amongst his many roles, Greg has an overall understanding of the Islands.
His vision is to see tourism well managed and sustain able for those involved in the industry and also for retaining the way of life the Islanders enjoy.
---
Chatham Island Guide Book
If you're planning a visit to the Chatham Islands we highly recommend this comprehensive guide.
Copies are available for purchase at $45 plus $5 pp through the Chatham Islands Museum with proceeds going to the museum.
For a copy please email museum@wnation.net.nz
---
Wherever you are take care and stay safe.
Kia Kaha
Tourism Chatham Islands
manager@chathamislands.co.nz
www.chathamislands.co.nz