Tourism Chatham Islands E-Newsletter
May 2020
Thank you to everyone for the great response to our first newsletter and for those who responded with photos and donations. This newsletter has further information on what is happening in tourism on the Island and a request for help with research and the writing of content for the exhibits to be installed in the museum.
We would like to make a huge shout out to anyone who can help us promote the Chatham Islands as a visitor destination. The new website is almost ready to go and our new brochure will be digital as well as hard copy. 
Tourism Forecasts for the Chatham Islands, Post Lockdown
4 Key Drivers
Many of our tourism businesses have incurred significant losses due to Covid-19.
With the move to Level 2 we are expecting the numbers of people looking to holiday on the Chatham Islands to increase. Our main tour companies have all confirmed their continued packages for the coming season. There are four key drivers of this anticipated new growth.
Firstly, New Zealanders who normally travel overseas may still want to fly somewhere different and the Chathams is one of the few options.  
Next, Tourism New Zealand is now mandated to promote domestic tourism. The first campaigns are due to begin in mid-June encouraging kiwis to get out and see their country. This is likely to drive uptake for us.  The Island is now being actively linked into these mainland promotions.  
Additionally, mainland tourism operators who normally promote international destinations are looking for new places to include in the product offering. Enquiries are already coming from some new operators.
Finally, our own Chatham Islands promotions are about to be stepped up now that we have a dedicated resource in behind Tourism Chatham Islands and have almost finished upgrading the new website.
We are well aware of the capacity of the Island and the need to manage visitors. The new brochure and website carry prominent messages to visitors about the important things they need to know.
Air Chathams Resumes Flights – Great News
Air Chathams restarted scheduled flights this Monday 25th May. This includes flights to and from the Chathams from Auckland, Wellington and Christchurch plus their mainland links between Auckland and Whakatane, Whanganui and the Kapiti Coast.
Check out the flight schedule here >>>>>
Tourism Update – There's been a lot happening
Tourism is set to become a much larger player in the Islands' economy. Within the last two years new businesses and the expansion of existing operations have occurred as the opportunities presented in this industry emerge.
Hotel Chatham's brand new nine suite Forget-me-not Suites
is operational and further accommodation has opened at Skirmish Bay, Port Hutt and Owenga
.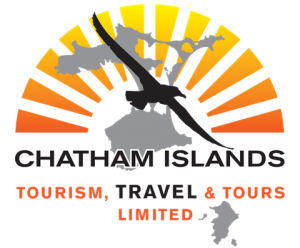 Two new tour companies now operate on the Island.

Chatham Island Travel organises tours to the Islands and further afield. Specialising in small groups, this includes flights, accommodation, activities, guides and packages.

Chatham Island Tours provide bespoke local guided tours to the attractions across the Island.
New attractions have also opened.
In addition to direct purchase of quality seafood, the Chatham Island Food Co now offers group tours through their processing facility.

Picturesque Port Hutt is now open for visitors, one of the key attractions is the wreck of the WW2 minesweeper the Thomas Currell. 

Chatham Island Charters is offering fishing, scenic tour and private charters on their 50 ft vessel that is surveyed to take 20 passengers.
Henga Lodge reopened but has now closed again and the River Onion Café and Gallery opened but has recently reverted to accommodation.
On the art scene, Kahukura Studio has opened at Admiral Garden. Studio 44°S is set to open at Owenga for the coming season. A further studio is in planning.
The first stage of the latest restoration of the Stone Cottage has begun. Funding for six new toilets for key locations around the Island has been awarded from the government's Tourism Infrastructure Fund (TIF).
Hokotehi Moriori Trust have almost finished the restoration work on the memorial to Tamakaroro and those that lost their lives at sea.
A funding application is being prepared to upgrade and provide interpretation for the Heritage New Zealand Category 1 Ponga Whare at Wharakauri.
Coupled with all this is one of the largest projects; the development of a new museum building at $2.3 million and the experience/exhibitions. Lottery, Environment and Heritage and Regional Culture and Heritage Fund applications have been lodged for this project.
We await the outcome.
Underlying these developments is the need for increased air and freight capacity to and from the Island, something the government has been turned to for support.
For those that follow GDP, the following are the projections for growth taken from the report by Martin Jenkins Enabling a Sustainable Economy in 2017.
They forecast the tourism growth over 10 years, however, achieving this in a much shorter timeframe should be possible when recognising that tourist numbers are around 2,000 per year and the Island has had limited investment in marketing.
This is an exciting, pivotal time for these lslands and one where it is important to balance growth and the demands of the industry with the aspirations of the community. It is critical that we ensure the Chatham Islands way of life and the very ingredients that give the islands their unique and special features are retained.
Chatham Island Museum Planning – Can you help?   Researchers, Botanists, retired Museum curators, Educators
If you are interested in researching and writing, have some spare time and would love to help the Island, we are keen to hear from you.
Jocelyn Powell, Co-chair of the museum trust has been working extensively on the stories and displays to go into the new museum. She would really welcome help researching and writing up the content on the natural, cultural/social history. You don't have to be on Island to help. Please email Jocelyn on deerubbinpress@internode.on.net if you are able to help.
---
 Featured Business
- Chatham Island Food Co-
Along with purchasing the Island's quality seafood directly, visitors can participate in a guided tour through the processing facility. They will also gain an insight into how businesses work on the island, the challenges and opportunities and hear owner Delwyn Tuanui's story.
Having returned to take over the family farm at a time when that industry was faced with extensive challenges, Delwyn's vision was to create a better way to get the product to markets, add more value and increase the return to the Island.
The challenges of increased freight, power and staff costs coupled with the restrictions of air and sea services stem from the island's isolation. Ironically, that same remoteness ensures cold, clear, clean water that is key to Delwyn's vision of quality world class products and diversifying into other deep sea species.
Tours are available to prebooked groups of visitors by contacting delwyn@chathamislandfood.com
Chatham Island Foods  deliver their quality seafood New Zealand wide. Orders can be made online.
---
Featured Attraction
-Sunderland Flying Boat-
The Chathams is full of surprises and, for many visitors, stumbling across the Sunderland Flying Boat at remote Kaingaroa is often unexpected.
Sunderland NZ4111 was built in 1945 and operated on the Chathams from 1953.
The plane's flying days ended on 4 November 1959 when it struck a hidden rock when taking off in the lagoon.
Much of the plane was salvaged and Ray and Alf Wiesner, farmers at Kaiwhata, cut it into three pieces and carted them to their farm to be used as hot-houses and storage sheds.
Over recent years much of the aircraft has been rebuilt and the current farm owner, Jim Muirson, has housed the shell in a shed together with interpretation information.
Visitors are welcome to view the plane on appointment. For more information and to view the photo story behind this attraction click the link.
---
Congratulations and thank you to the Hokotehi Moriori Trust and all involved in restoring the memorial to Tamakaroro and the many who have been lost at sea located at Kaingaroa.
This is an important and impressive memorial.The work is not yet completed with the surrounding area yet to be completed. Here is some background to this project.
Stephen Barker, the previous owner of Kāingaroa Station, designed and assisted with the construction of a beautiful memorial to a Moriori who was killed in 1791, named Tamakaroro, as well as many Chatham Islanders who have lost their lives at sea.  The memorial used an old whale pot and timber arches shaped like a ship's hull to create a special attraction in Kāingaroa.
Over the years the memorial has suffered a little from island weather conditions.  In January this year Hokotehi Moriori Trust engaged artists James Webster and Danny Shortland to repair and restore the memorial with the blessing of the Barker family.  The finished product has a new entrance way and restored metal and timber work.  Work is still to be finished on landscape work and interpretation panels and we look forward to working with the Kāingaroa community on the finishing touches.
---
Chatham Island Guide Book
If you're planning a visit to the Chatham Islands we highly recommend this comprehensive guide. 
Copies are available for purchase at $45 plus $5 pp through the Chatham Islands Museum with proceeds going to the museum. For a copy please email museum@wnation.net.nz
Wherever you are take care and stay safe. 
Kia Kaha